Our intention is to increase the role of our building as a community venue, making it available seven days a week to a wide variety of groups; offering activities, services and facilities for local people.
Alongside our main worship space, which seats 125, our aim is to transform our existing church hall to create larger, more flexible meeting spaces with modern facilities that can be used by everyone
Our vision is to create a building that will support the church and the local community for generations to come.  
To do this we will be;
Extending the church hall to create a larger, more flexible space
Creating a new extension and entrance to improve access to the facilities.
Providing improved disabled access
Redesigning the main meeting space
Creating several smaller meeting room
Creating a new fully equipped kitchen space
Redesigning and modernising the toilet facilities
Creating a multi-use Garden Room for community use
Installing equipment and fittings for new projects
Facilitating various support services to offer help and guidance for all
 
New activities will emerge, run by both church and other community groups, and will tackle issues around loneliness, isolation, deprivation as well as offer a range of advice and support services to individuals and families.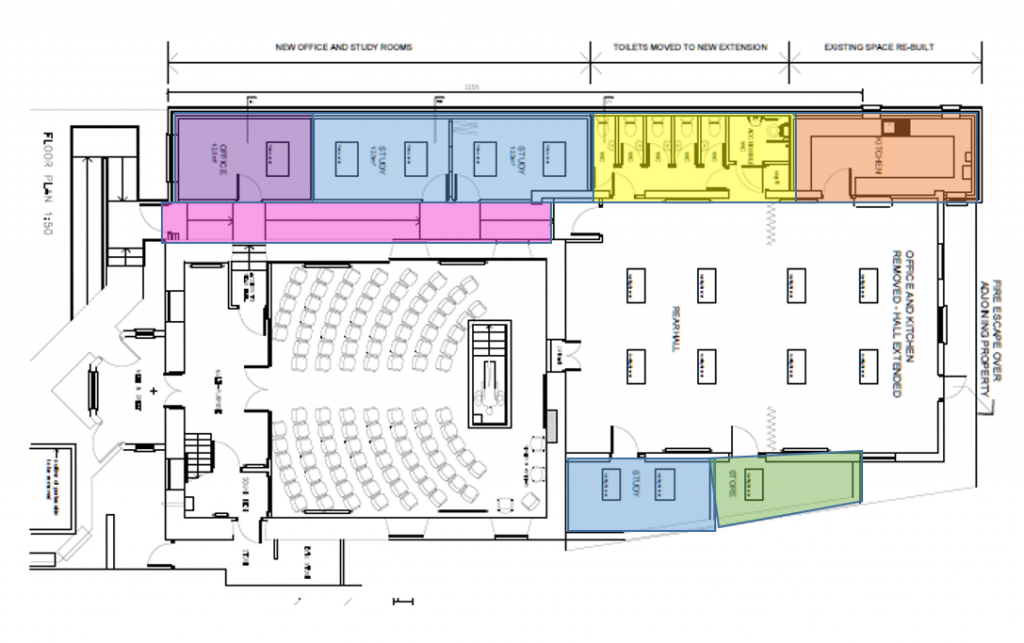 Schedule of New Accommodation
3 Study Areas
Toilet Block with Accessible Toilet
Enlarged 'Commercial' Kitchen Area
Church Office
Link Corridor
Prayer Room
Reflection Garden
Entrance Porch
Enlarged Rear Hall
The preparation for this project has been ongoing for a number of years now.  As fundraising is ongoing and the building is being cleared and we are hopeful that work will be carried out through spring and summer of this year and will be complete by early September 2021, with the building opening to the community by the end of September 2021.
Summer 2019

Consult Ainon's Church Family & The Community

Autumn 2019

Appoint Architect / Plans Drawn

Autumn 2019

Planning Permission Granted

Winter 2019

 & Spring 2020 Work on Detailed Design

Summer 2020 – Spring 2021

Raising The Funds!

Spring 2021

Appoint Contractors

May 2021 Construction Starts
 And, finally…….. 
Early September 2021

Construction Complete*

Late September 2021

Ainon Community Hub Relaunch*


 

(* provisional dates)
We have completed a design and tender process, and our church members have already given substantial amounts towards this project.  
Ainon's Community Hub will be a blessing to many, a safe place to be, a place where it is ok, to not be ok and get the help you need. A place for all in the village and villages around us to meet, gather and where help and support is available throughout the week.
We can't wait to welcome you……